كيف تكون ناجحا ومثمرا في الارض جزء 3 How to be fruitful & Productive Part
Life Changing Truth الحق المغير للحياة
www.LifeChangingTruth.org
As a child of God you must work the earth and make it better … failure to work and study is a way of thinking and not because of other factors … The word shows how to be successful in your life in your studies or your work or your project or service.
من تأليف وإعداد وجمع خدمة الحق المغير للحياة وجميع الحقوق محفوظة. ولموقع خدمة الحق المغير للحياة  الحق الكامل في نشر هذه المقالات. ولا يحق الإقتباس بأي صورة من هذه المقالات بدون إذن كما هو موضح في صفحة حقوق النشر الخاصة بخدمتنا.
Written، collected & prepared by Life Changing Truth Ministry and all rights reserved to Life Changing Truth. Life Changing Truth ministry has the FULL right to publish & use these materials. Any quotations is forbidden without permission according to the Permission Rights prescribed by our ministry.
---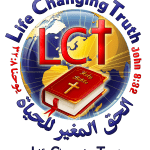 Life Changing Truth الحق المغير للحياة
www.LifeChangingTruth.org