A Fact, Not a Promise
Life Changing Truth الحق المغير للحياة
www.LifeChangingTruth.org
 Who his own self bare our sins in his own body on the tree, that we, being dead to sins, should live unto righteousness: by whose stripes ye were healed.(1Pet 2:24)
By Jesus' stripes, you are healed. You don't have to pray. You don't have to have someone else pray. It's not necessary to pray when you know this fact as you ought to know it. Simply thank God for perfect deliverance.
The afflictions in your body were laid on Jesus. And He bore them. You do not need to bear them. All you need to do is recognize and accept the fact that Jesus has already borne your sicknesses and diseases. Therefore, you do not have to bear them. That's a fact, not a theory. It's a Bible fact.
I've heard people say, "Well, I know the Lord promised to heal me." No, He didn't. He didn't promise. First Peter 2:24 is a statement of fact. It tells you what happened.
A promise tells you about something that's going to happen. A fact tells you about something you've already received or that's already happened. By Jesus' stripes, you are already healed!
Once you recognize this fact, then just refuse to allow disease in your body. Every believer should thoroughly understand that his healing was consummated in Christ. And if every believer thoroughly understood that, it would mean the end of chronic trouble in the bodies of believers.
Confession: The afflictions in my body were laid on Jesus. My healing was consummated in Christ. And by His stripes, I am healed!
(Taken by permission from RHEMA Bible Church , aka Kenneth Hagin Ministries , Tulsa , OK , USA.  www.rhema.org )
من تأليف وإعداد وجمع خدمة الحق المغير للحياة وجميع الحقوق محفوظة. ولموقع خدمة الحق المغير للحياة  الحق الكامل في نشر هذه المقالات. ولا يحق الإقتباس بأي صورة من هذه المقالات بدون إذن كما هو موضح في صفحة حقوق النشر الخاصة بخدمتنا.
Written، collected & prepared by Life Changing Truth Ministry and all rights reserved to Life Changing Truth. Life Changing Truth ministry has the FULL right to publish & use these materials. Any quotations is forbidden without permission according to the Permission Rights prescribed by our ministry.
---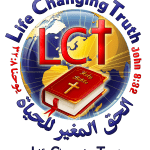 Life Changing Truth الحق المغير للحياة
www.LifeChangingTruth.org