Custodian
Life Changing Truth الحق المغير للحياة
www.LifeChangingTruth.org
"What? know ye not that your body is the temple of the Holy Ghost which is in you, which ye have of God, and ye are not your own? For ye are bought with a price: therefore glorify God in your body, and in your spirit, which are God's" (1 Cor. 6:19-20).
Some have said, "Brother Hagin, our spirits belong to the Lord all right, but our bodies haven't been redeemed yet. So we have to go on suffering sickness and disease in the physical realm."
But in the text above, God's Word tells us that not only your spirit, but your body as well, is bought with a price. Therefore, we are told, "…glorify God in your body…."
Does God get glory out of the devil dominating us physically? Does God get glory when the temple of the Holy Spirit is being defaced with disease? No, certainly not.
Why does God permit it, then? Because you are the custodian of your body, the temple of God's spirit. God said to you to do something about your body.
Learn to stand against anything that attacks your body just as quickly as you stand against whatever attacks your spirit. Simply say, "Satan, you don't have any right to put that on my body. My body belongs to God."
Confession: My body is the temple of God. I will be a good custodian. I will glorify God in my body.
(Taken by permission from RHEMA Bible Church , aka Kenneth Hagin Ministries , Tulsa , OK , USA.  www.rhema.org )
من تأليف وإعداد وجمع خدمة الحق المغير للحياة وجميع الحقوق محفوظة. ولموقع خدمة الحق المغير للحياة  الحق الكامل في نشر هذه المقالات. ولا يحق الإقتباس بأي صورة من هذه المقالات بدون إذن كما هو موضح في صفحة حقوق النشر الخاصة بخدمتنا.
Written، collected & prepared by Life Changing Truth Ministry and all rights reserved to Life Changing Truth. Life Changing Truth ministry has the FULL right to publish & use these materials. Any quotations is forbidden without permission according to the Permission Rights prescribed by our ministry.
---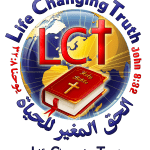 Life Changing Truth الحق المغير للحياة
www.LifeChangingTruth.org