Fear Thou Not
Life Changing Truth الحق المغير للحياة
www.LifeChangingTruth.org
He shall not be afraid of evil tidings: his heart is fixed, trusting in the Lord. (Ps. 112:7)
After one of my morning services, a woman came up to me crying and said, "Brother Hagin, I'm afraid. There is a hereditary condition that is passed down in my family. It is going to happen to me."
I said, "Open your Bible to Isaiah 41:10. God said, 'Fear thou not; for I am with thee….' God is with you, sister!" I asked her if she was born again. And she said that she was.
I asked her if she was filled with the Spirit and she said that she was. I said, "Then greater is He that is in you than he that is in the world" (1 John 4:4).
I said to her, "Can you really believe that God is with you and be afraid? No, you're afraid when you think that He is not with you."
Then she said, "You don't understand how weak and helpless I am."
I read her the rest of Isaiah 41:10, "…be not dismayed; for I am thy God: I will strengthen thee; yea, I will help thee; yea, I will uphold thee with the right hand of my righteousness."
The God of the universe is with us! He who spoke the worlds into existence is with us! We don't have to be weak, or helpless, or afraid!
Confession I know that God is with me. He is in me. So I don't have to be afraid. God will strengthen me. He will help me. He will uphold me with the right hand of His righteousness.
 (Taken by permission from RHEMA Bible Church , aka Kenneth Hagin Ministries , Tulsa , OK , USA.  www.rhema.org )
من تأليف وإعداد وجمع خدمة الحق المغير للحياة وجميع الحقوق محفوظة. ولموقع خدمة الحق المغير للحياة  الحق الكامل في نشر هذه المقالات. ولا يحق الإقتباس بأي صورة من هذه المقالات بدون إذن كما هو موضح في صفحة حقوق النشر الخاصة بخدمتنا.
Written، collected & prepared by Life Changing Truth Ministry and all rights reserved to Life Changing Truth. Life Changing Truth ministry has the FULL right to publish & use these materials. Any quotations is forbidden without permission according to the Permission Rights prescribed by our ministry.
---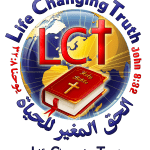 Life Changing Truth الحق المغير للحياة
www.LifeChangingTruth.org