M. M. Egypt
Life Changing Truth الحق المغير للحياة
www.LifeChangingTruth.org
Your messages – which are from God – are truly changing my life. And for the first time, in a radical manner & without hesitation or doubt, I feel God's tremendous love towards me.
And I want to tell you that I began to read the Bible in a different way after I read your articles about "How to read the  Bible" I felt that I want to know more & more. Now I feel a freedom that makes me rejoice although the surrounding circumstances. I feel your superfluous love through your messages. I began to speak about you to everyone I know & God will reward your efforts which are done in love.
من تأليف وإعداد وجمع خدمة الحق المغير للحياة وجميع الحقوق محفوظة. ولموقع خدمة الحق المغير للحياة  الحق الكامل في نشر هذه المقالات. ولا يحق الإقتباس بأي صورة من هذه المقالات بدون إذن كما هو موضح في صفحة حقوق النشر الخاصة بخدمتنا.
Written، collected & prepared by Life Changing Truth Ministry and all rights reserved to Life Changing Truth. Life Changing Truth ministry has the FULL right to publish & use these materials. Any quotations is forbidden without permission according to the Permission Rights prescribed by our ministry.
---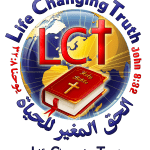 Life Changing Truth الحق المغير للحياة
www.LifeChangingTruth.org