P. N. South Africa
Life Changing Truth الحق المغير للحياة
www.LifeChangingTruth.org
    I thank God for guiding Dr. Ramez Ghabbour to establish this website "Life Changing Truth". It has been about six months since I have started using this website and the results are amazing. This website gives God's results in my life, I mean every word that is spoken in your site has become real in my life. I have gained a tremendous growth in my spirit through your articles and teachings, I have learnt to flow in the Holy Ghost in everything I do.
Now I know more about the Holy Spirit and His effect in my life. I have become more than a man, the fire of God's Spirit is always burning in me, how can I ever fail, how can I ever loose. Thanks to you, keep touching more lives, I know God is using you to transform people to be what He wanted them to be, so that they may walk in the fullness of the revelation in the knowledge of Him. I really love your website "Life Changing Truth".
من تأليف وإعداد وجمع خدمة الحق المغير للحياة وجميع الحقوق محفوظة. ولموقع خدمة الحق المغير للحياة  الحق الكامل في نشر هذه المقالات. ولا يحق الإقتباس بأي صورة من هذه المقالات بدون إذن كما هو موضح في صفحة حقوق النشر الخاصة بخدمتنا.
Written، collected & prepared by Life Changing Truth Ministry and all rights reserved to Life Changing Truth. Life Changing Truth ministry has the FULL right to publish & use these materials. Any quotations is forbidden without permission according to the Permission Rights prescribed by our ministry.
---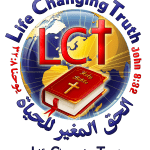 Life Changing Truth الحق المغير للحياة
www.LifeChangingTruth.org