The Good of the Land
Life Changing Truth الحق المغير للحياة
www.LifeChangingTruth.org
"If ye be willing and obedient, ye shall eat the good of the land" (Isa. 1:19).
If you are willing and obedient, it is God's will that you have the best. (Of course, you can't walk in disobedience and enjoy the good things of God.)
God is not a miser or a tightwad. And He didn't put everything here in this world for the Devil and his crowd to enjoy.
Some people have the idea that if you're a Christian, you should never have anything, financially or materially. They believe that you should go through life poor and beaten down.
But Jesus said, "If ye then, being evil and natural, know how to give good gifts unto your children, how much more shall your Father which is in heaven give good things to them that ask him?" (Matt. 7:11).
Oh, God wants to give us good gifts! He wants us to have the best! He wants us to prosper and have the good things of this life! But we must cooperate with Him.
Confession: I am willing to love and serve God my Father. I am obedient to walk in the light of His Word, His will. Therefore, I shall eat the good of the land. And with confidence I can pray for the good things in life, because it is my Father's will that I have them.
(Taken by permission from RHEMA Bible Church , aka Kenneth Hagin Ministries , Tulsa , OK , USA.  www.rhema.org )
من تأليف وإعداد وجمع خدمة الحق المغير للحياة وجميع الحقوق محفوظة. ولموقع خدمة الحق المغير للحياة  الحق الكامل في نشر هذه المقالات. ولا يحق الإقتباس بأي صورة من هذه المقالات بدون إذن كما هو موضح في صفحة حقوق النشر الخاصة بخدمتنا.
Written، collected & prepared by Life Changing Truth Ministry and all rights reserved to Life Changing Truth. Life Changing Truth ministry has the FULL right to publish & use these materials. Any quotations is forbidden without permission according to the Permission Rights prescribed by our ministry.
---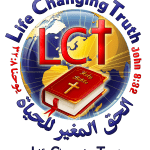 Life Changing Truth الحق المغير للحياة
www.LifeChangingTruth.org