For This Cause
Life Changing Truth الحق المغير للحياة
www.LifeChangingTruth.org
 "For this cause I bow my knees unto the Father of our Lord Jesus Christ"(Eph. 3:14)
The second prayer I would pray was this one from Ephesians, Chapter 3. And I'd pray it for myself like this:
For this cause I bow my knees unto the Father of our Lord Jesus Christ, of whom the whole family in heaven and earth is named, that he would grant me, according to the riches of his glory, to be strengthened with might by his Spirit in my inner man; that Christ may dwell in my heart by faith; that I, being rooted and grounded in love, may be able to comprehend with all saints what is the breadth, and length, and depth, and height; and to know the love of Christ, which passes knowledge, that I might be filled with all the fullness of God. Now unto him that is able to do exceeding abundantly above all that we ask or think, according to the power that works in us, unto him be glory in the church by Christ Jesus throughout all ages, world without end. Amen.
I suggest that you pray these Ephesian prayers for yourself. Stay at it. It won't work if you pray them just on a hit-and-miss basis. But if you'll stay with it, praise God, they will work for you!
Confession: (Pray yesterday's and today's prayers for yourself.)
(Taken by permission from RHEMA Bible Church , aka Kenneth Hagin Ministries , Tulsa , OK , USA.  www.rhema.org )
من تأليف وإعداد وجمع خدمة الحق المغير للحياة وجميع الحقوق محفوظة. ولموقع خدمة الحق المغير للحياة  الحق الكامل في نشر هذه المقالات. ولا يحق الإقتباس بأي صورة من هذه المقالات بدون إذن كما هو موضح في صفحة حقوق النشر الخاصة بخدمتنا.
Written، collected & prepared by Life Changing Truth Ministry and all rights reserved to Life Changing Truth. Life Changing Truth ministry has the FULL right to publish & use these materials. Any quotations is forbidden without permission according to the Permission Rights prescribed by our ministry.
---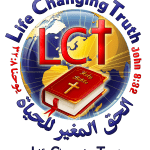 Life Changing Truth الحق المغير للحياة
www.LifeChangingTruth.org